Work - After 20+ years with AT&T/Lucent Bell Labs as a Computer Science Engineer, I left engineering to establish Lakeside Designs as a professional outlet for my art. Now I create my art full-time, and enjoy doing what I had been doing in the margins previously.


Interests - In addition to my passion for the arts, I confess to being an avid "bookworm". I love many types of music, enjoy the out-of-doors, like to fish, gardening, collecting stamps & postcards, photography and traveling. I am also an Amateur Radio Operator (HAM) - my call sign is KF4NQM [KF4-Nice Quilt Maker]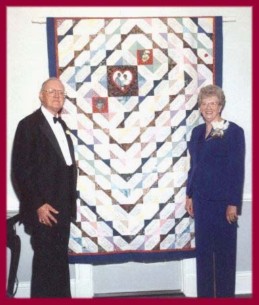 Photo above taken January 6, 1996 in Columbia, SC, of William J. Montgomery and Emma Neal Montgomery. Photo is of my parents with their 50th Wedding Anniversary Memory Quilt, which I made for them. It contains hand-written signatures and personal comments from family and friends; as well as photos of my parents before marriage and after.