"One Woman's Wish"

©2004


Assemblage / Collage by Studio Artist Dottie Gantt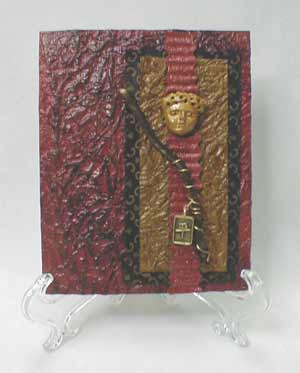 "One Woman's Wish" ©2004
Size 4" h x 5" w



Artist Comment/Statement:
As I watch the nightly news on CNN about the second American war in Iraq, I keep wishing that there was "peace" around the world. Just imagine what wonderful things the people of the world could do with the resources used to make war.





Detail View

Materials:
Handmade paper, Oriental paper, card stock paper, natural wood stick, metal Oriental "Peace" charm, acrylic paint, metal wire, polymer clay woman's face, and the base is chipboard

Note: Collage comes with a clear plastic easel for display

Techniques: Assemblage/Collage
Materials were assembled and collaged in layers with acid free glue. The wooden stick was wrapped with wire and the "Peace" charm attached. A finish of acrylic coating spray was used.