"Indian Summer" ©2004
Assemblage / Collage by Studio Artist Dottie Gantt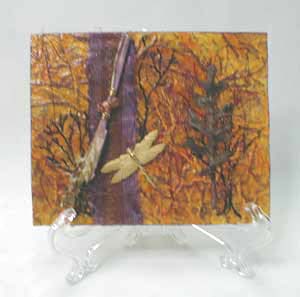 "Indian Summer " ©2004
Size 4" h x 5" w



Artist Comment/Statement:
During the fall there will be a few days that seem like summer but everything has the orange, reds, and gold's of fall. The dragon flies of summer are gone. The trees are starting to become bare. The warmth of Indian Summer calls us outside to enjoy the day!



Detail View

Materials: Handmade paper, mulberry paper, card stock paper, paper mesh, natural dried leaves from "Dusty Miller" plant, natural wood stick, metal "dragonfly" charm, polyester thread, acrylic paint, metal wire, glass beads, and base is chipboard

Note: Artwork comes with a clear plastic easel for display

Techniques: Assemblage/Collage
Materials were assembled and collaged in layers with acid free glue. For embellishment, I stitched a zigzag stitch with my sewing machine to attach the paper mesh to the mulberry paper. A finish of acrylic coating spray was used.